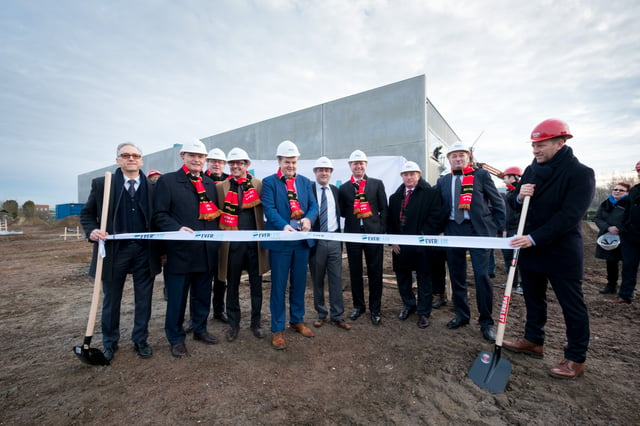 Mechelen, 9 December 2016 – EVERLAM commenced construction of its future international headquarters, located in Mechelen, where its head office, customer & technical service and R&D/innovation center will be located.
The local authorities represented by the Mayor of Mechelen, Bart Somers, EVERLAM's Board of Directors, leadership team and employees were all gathered on the building site on Wednesday for the ground-breaking ceremony. The new building will consolidate all main functions that are currently split across multiple sites, to facilitate highest possible customer focus.
"The center will provide the company's employees with a modern, well equipped and stimulating environment to foster innovation and business development. Mechelen, centrally located in Europe, offers access to a highly qualified, multilingual workforce, and is the perfect location to support our customers." said Dr. Greg Parekh, EVERLAM Chairman.
Harald Hammer, EVERLAM CEO, commented: "Our new HQ marks a major step in building an independent, sustainable company serving the architectural laminated safety glass market. Not only will it provide our employees a unique working environment, it will also enable stronger synergies across functions. Our future technical and innovation center will enable us to expand our R&D and Performance Monitoring Programs. This investment follows our previous investments this year – the development of our sales and technical support organization, the increase of our R&D capabilities by a new pilot-line and the launch of EVERLAM™ QUIET, our acoustic solution for architectural applications, and further confirms our commitment to our customers and our employees."
About EVERLAM
EVERLAM is an innovative manufacturer of high-quality polyvinyl butyral (PVB) interlayer for laminated architectural safety glass, dedicated to proposing high-value solutions, comprising quality products that are supported by outstanding technical expertise. Its portfolio includes EVERLAM™ CLEAR, EVERLAM™ WHITE and EVERLAM™ COLORED PVB interlayer, as well as EVERLAM™ QUIET, its new acoustic offering. EVERLAM™ PVB interlayer (formerly sold in Europe under the trademark Butacite®) is used by glass laminators worldwide to produce attractive, durable and high-performance architectural laminated glass products. The company's commercial headquarters and technical center are located in Mechelen, Belgium. Its production plant is in Hamm Uentrop, Germany, where its PVB interlayer has been manufactured for over 25 years. All sites are ISO 9001 certified. EVERLAM was spun out of DuPont in 2014 and is wholly owned by GVC Holdings, a growth equity investment company specializing in the chemicals industry. For more, please visit www.everlam.com.
Media contact: Helene Maury-Parker – press@everlam.com – Phone: +32 498 165 001.