Street demonstrations such as those we have experienced recently around the world can unfortunately degenerate and lead to shops being targeted and shop windows broken. A nightmare for shop owners who face a double negative business impact — by merchandise being stolen and business coming to a halt until a new window is installed.
Against the threat of vandalism and theft, it is important to protect your shops at all times with laminated safety glass made with EVERLAM™ PVB interlayer.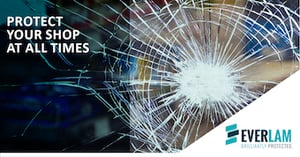 A PVB film is an extremely strong and adhesive material that is laminated between two or more panels of glass. Any attempt at breaking a laminated glass window with a tool such as a bat, a hammer or a stone will be met with strong resistance. During impact, the PVB interlayer inside the glass acts as a strong barrier that remains in place, holds the shattered glass fragments together and reduces the likelihood of intrusion.
The window stays in place to protect the shop, its content and people while replacement is organised. Business can go on.
At impact, the PVB interlayer inside the glass absorbs the energy from a shock through impressive elongation (up to 250% longer).

In case of glass breakage, the shattered glass fragments stick to the PVB film, which reduces the risk of cutting injuries.

In the right configuration, it provides security against vandalism, burglary, fire arm attack or explosion.

It reduces sound transmission in noisy environments.

It blocks UV transmittance and protects people and objects from potentially damaging rays.

It complies with the Florida building code for high-velocity hurricane zone applications.



EVERLAM offers a portfolio of quality solutions for shop windows:
EVERLAM™ CLEAR

is our elastic, adhesive, strong and durable PVB interlayer. It gives laminated glass its essential properties of safety and security, noise control, ultra-violet (UV) protection as well as protection against hurricanes.
EVERLAM™ SUPER TOUGH

is a high modulus, extra resistant PVB solution that provides superior strength, stiffness and post-glass breakage behavior. It is ideal for structural applications such as glass balconies, balustrades, curtain walls, floors and stairs.
EVERLAM ™QUIET

is a state-of-the-art acoustic offering solution, it is a unique sound blocking solution that combines a high-performance PVB film with the superior level of technical expertise and customer service that is the company's trademark.



Our EVERLAM™ PVB interlayer complies with the international norms and regulations in force:
EN356— Glass in building, security glazing, testing and classification of resistance against manual attack.

EN12600 — Impact safety film for glass.

ANSI Z97.1 — American national standard for safety glazing materials used in buildings.



For further details, our customers should contact their local EVERLAM representative. Others are invited to contact us here.