Mechelen, 6 August 2015 – Everlam announced today worldwide expansion plans, revealing the appointment of senior managers in the Americas. The company makes high-quality Polyvinyl Butyral (PVB) interlayers for laminated safety glass and started operating early 2015. After 6 months, it positions itself as a serious contender in the global market.
Everlam took over the German Butacite® PVB operation of DuPont in February 2015 with the objective to turn it into a global company. Building on the product's heritage and reputation for the highest quality, Everlam strengthened its existing resources with additional experienced team members to set the company on track for expansion.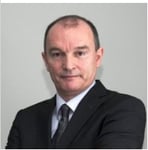 CEO Luc De Temmerman commented: "As the trend towards greater use of laminated glass in architecture continues to open new opportunities and increases demand for high-quality products, Everlam's goal is to become a brand of excellence in PVB interlayers for architectural laminated safety glass. We have the right products, a team of experts in place and the flexibility to provide excellent customer service."
About Everlam
Everlam makes high-quality polyvinyl butyral (PVB) interlayer for laminated safety glass. Available in a range of clear and colored products, EverlamTM PVB interlayer is used by glass laminators worldwide to produce attractive, durable and high-performance architectural laminated glass products. Everlam's headquarters and technical center are located in Mechelen, Belgium. Its ISO 9001 certified production plant is in Hamm Uentrop, Germany, where its PVB interlayers have been manufactured for over 25 years. Everlam is wholly owned by GVC Holdings, a growth equity investment company specializing in the global chemicals industry. For more information about Everlam, please visit www.everlam.com.
Media contact: Helene Maury-Parker. press@everlam.com. +32 498 165 001.
Everlam NV – Schaliënhoevedreef 20-D – 2800 Mechelen – Belgium – T. +32 15 48 08 00 – F. +32 15 48 08 17