Producing high-quality laminated glass using a PVB film is a challenging activity that requires real know-how and great attention to a lot of details. If not properly monitored, many factors can negatively impact the end-product. Adhesion is one such critical factor.
Adhesion is what determines by and large the performance of laminated glass. Glass and the PVB film must stick together tightly to ensure a long lasting safe and secure product and ensure great visible appearance. However, the correct adhesion balance must be achieved with the bond between glass and the PVB film, not too strong so that the laminated glass retains the flexibility it needs to resist high impact.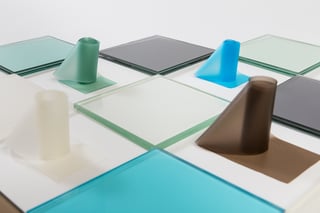 Achieving the right level of adhesion is of primary importance. Failing t
hat, defects are most likely to show, technical problems will occur, performance will decrease and the laminated glass may have to be replaced – a very heavy cost that no manufacturer wants to incur.
What determines the right level of adhesion? Key parameters include the hydroxyl level and humidity level of the PVB film, relative air humidity as well as glass cleanliness.
Rely on our technical experts to support your team
Your own operating team is most probably fully occupied and may not have time to monitor all the manufacturing parameters and equipment. Our EVERLAM technical team fully understands the process details of making a PVB film and laminating it. Together, we can partner to form an augmented team to achieve better performance. This enables you to cost-effectively acquire laminating program expertise and preventative maintenance best practices.
Examples of areas where we can help make a difference:
Perform on-line quality control that your team may not have time or expertise to do;
Recommend the appropriate control systems that effectively maintain the key parameters at the right levels;
Optimize your manufacturing processes, products and productivity;
Train your team in a variety of fields: laminating, autoclaving, quality control, etc.;
Test your product samples with a wide range of fine tests to assess the consistency of your production quality.
At EVERLAM, we have in-depth technical knowledge and expertise in manufacturing a high-quality PVB film and laminating it, acquired over years of working with machine manufacturers and our customers to work out improvements, fix issues and find creative solutions. We work with laminators to provide technical assistance, tools and programs to enhance the productivity of your laminated safety glass manufacturing operations. We also assist with training of the production and maintenance team.
For more information on our technical services, please contact EVERLAM by email: info@everlam.com or by phone: +32 15 48 08 00.