We are pleased to bring you this month's newsletter. The main topics you will find in this edition:
Our first year anniversary: we celebrate after a first successful year
A new pilot line in spring to enhance our new product development programme
News from North America: Everlam™ PVB interlayer is on the SGCC List of Approved Interlayers
Mark the date for Glasstec: we'll be there !
On-going investments in customer service: people training and next-generation, integrated ERP system
Spotlight on a team member: Pilar Bengoa, Account Manager
One Year Already: THANK YOU for Your SUPPORT !
Now the transition is behind us we will continue to focus on doing well what we have done for the past 25 years, that is produce the same high-quality polyvinyl butyral (PVB) interlayer.
It has been a very successful first year for the company as we have significantly strengthened our global sales organisation and are aligning to deliver the highest level of service in terms of responsiveness and lead time.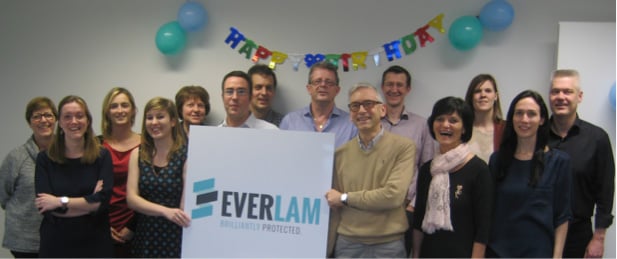 "We are grateful to our customers for our successful first year. We are paving the way for more opportunities to celebrate with them this year." – David Voisin, Business Director, Everlam
We are taking further steps to accelerate our growth and position ourselves as a preferred producer of polyvinyl butyral (PVB) interlayer for laminated safety glass on the architectural market. The two main areas where we want to make a real difference for customers are products – existing products of consistent high-quality and new products during the year – and unbeatable customer service.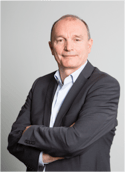 "This year was critical for Everlam and I am proud to say that our team has delivered and progress is noticeable on all fronts. The market is considering our products best in class and customers tell us that the quality and service performance has reached new heights, making a real difference to them. This is exactly what underpins the great ambitions we have for the company."
– Luc De Temmerman, CEO, Everlam
A NEW PILOT LINE IN SPRING 2016
We are pleased to announce that as part of our growth plans we will soon be equipped with a new pilot line. This additional equipment will enable us to intensify the new product development programme which is already in place. For more information, please contact your sales rep.
EVERLAM™ PVB IS ON THE SGCC LIST OF APPROVED INTERLAYERS
We have exciting news from North America. First, Everlam Inc. was created to handle all our local customer service activities including shipping, warehousing, customer shipments, invoicing and customer payments. In addition, we are proud to say that Everlam™ PVB interlayer is on the Safety Glazing Certification Council (SGCC) List of Approved Interlayers.
For more information, please contact Jim Howard: +1 770-317-9638 or james.howard@everlam.com
MARK THE DATE FOR GLASSTEC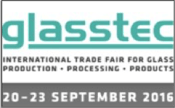 We will naturally have an Everlam booth at Glasstec and our team will be there to introduce our entire range of products – clear and colours – and planned development. Over the next few months, we will inform you regularly of what we are planning for you there. We look forward to meeting you there!
ON-GOING INVESTMENT IN CUSTOMER SERVICE
As smooth, seamless business operations are a key part of our business, we are investing in our people and support systems to improve our capacity to coordinate and handle customer requests. Our customer sales representative team is trained to be very proactive and close to their customers. We are also setting up a new integrated Enterprise Resource Planning (ERP) system – SAP's next-generation S4HANA. It will help us improve our sales, logistics, finance and reporting operations and prepare for future developments while be more efficient when interacting with customers on a day-to-day basis.
SPOTLIGHT ON A TEAM MEMBER
Pilar Bengoa: "My energy comes from being both focused on what I want and close to nature."
Pilar Bengoa is one of our senior account managers in Europe. In the PVB business for 30 years, needless to say she knows it inside out and her customers appreciate her knowledge, her dedication and her outgoing personality.
A dynamic team member, passionate about her job, she enjoys "diversity in action". What she prefers: visit customers wherever they are, provide customized responses to their questions and collaborate with them to solve their issues – in a phrase "being close to them."
Everlam has an entrepreneurial culture, which makes a positive difference to the way business is done. Positive consideration of customer requests and fast-decision track are especially valuable to my customers. They have trusted Everlam from the start and see the company as a reliable source of high-quality material. They know we have the knowledge and the right people to succeed with them."
– Pilar Bengoa, Account Manager, Everlam
Active at work, Pilar gets her energy and inspiration in a quiet environment. A keen yoga and meditation practitioner and a vegetarian, she enjoys nature and trekking in the mountains as well as being with friends. When asked about what she is the most proud of in Barcelona, where she lives: "The open minded culture and the wide diversity of its people, and of course FC Barcelona!"
For more information on Everlam, please visit our website: www.everlam.com