In indigenous language, MUKUMBARI means "where the sun sleeps", a tribute to the people who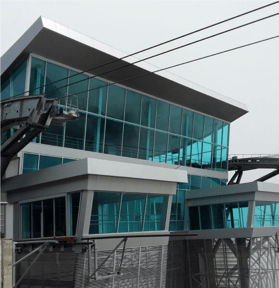 conquered the high peaks of Merida in the Venezuelan Andes mountains.
Boasting the highest and second longest cable car run in the world, Mukumbari cable car is a very popular tourist spot offering a spectacular 12.5-kilometer journey up to a height of 4,765 meters above sea level.
It is an incredible piece of engineering that was completely upgraded, together with its building infrastructure, and reopened at the end of April 2016.
This was a big challenge when its cable car needed refurbishing, with major work which included laminated glass:
Its station building now uses a 0.38 mm EVERLAM™ Azure Blue PVB interlayer between two panels of 5 mm float glass.
Its balustrades leading to the station building are made with laminated glass using a 19 mm glass structure incorporating EVERLAM™ Clear PVB interlayer
Alvaro Latorre, General Director, BELFORT GLASS, commented: The EVERLAM™ Azure Blue PVB interlayer corresponded to the exact color that the architect wanted to use for the building and we're pleased that the collaboration between us went so well on such a "highlevel" project."
Pilar Bengoa, Account manager at EVERLAM, said: "The project was particularly complex because of extreme altitude, difficult weather conditions and short lead times. We're pleased that Mukumbari can once again welcome tourists and take them to the mountain top while guaranteeing maximum safety conditions thanks to EVERLAM™ PVB interlayer."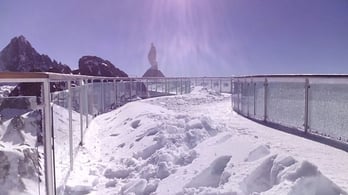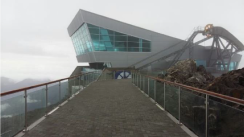 Laminator: BELFORT GLASS (Venezuela); Glazing installer: CAMETAL (Venezuela). Photos: courtesy of Mr. Larry Valecillos, Cametal General director.
DOWNLOAD CASE STUDY IN: