HAGA hospital is the largest hospital in The Hague, in The Netherlands. Recently renovated and enlarged with the addition of a new, modern building, it will be further enlarged by the end of 2017.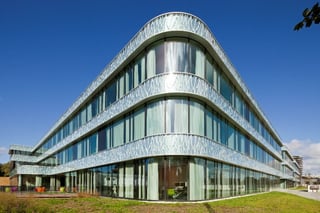 For a hospital that had to consolidate different divisions in one new location, the challenge of making a comprehensive yet light, homely structure was high. However, light, orientation and comfort were always at the center of the project and drove MVSA Architects' design right from the start.
To achieve such a design, the glazing is a complex mix of insulating glass units (IGUs) and single (bent) glass with lovely ceramic printing, allowing much light to come into the buildings:
The IGU is Isolide Brilliant GN60/28 from Scheuten (Ug value of 1.0 watt/M2K), some it constructed using bent glass with a radius of 3,050 mm.
Scheuten partnered with EVERLAM to produce most of the laminated glazing containing 0.76 mm EVERLAM™ CLEAR PVB interlayer (LAM 52D).
The silk screen printed glass is constructed by Color Safe Design, using only 8 mm tempered bent glass.
Joep Kwantes, Account Manager Scheuten, commented:" The pattern and the technical solution were provided from close collaboration between the architect, the façade builder Vorsselmans and Scheuten's own silk screen specialist. For lamination, we know that EVERLAM's technical expertise and service would be a great asset to the project".
Luc Moeyersons, Technical Programs Manager at EVERLAM, said: "We are proud to have been selected for our product quality as well as our experience and reputation at solving difficult challenges. Collaboration with Scheuten was fruitful and the result is an outstanding building where patients will feel comfortable."
Photos: Joost Brouwers.